Print Edition - April 2014
On March 5, dozens of purple balloons floated up into the sky and out of sight as students came together for a giant group hug.  Afterwards,... Read More »
April 10, 2014
View All »
While you're here….

Loading ...
Professional Articles/Videos
CMR Calendar of Events
April 24, 2014 – CMR Drama Story Theater


N/A, General

April 29, 2014 – Blood Drive


N/A, General

April 30, 2014 – Senior Meeting


N/A, General

May 1, 2014 – Preforming Arts Assembly


N/A, General

May 2, 2014 – Midterm Quarter 4


N/A, General

May 5, 2014 – AP Exams


N/A, General
Drew Brennan, Staff Writer
Amidst the seemingly chaotic clutter of guns and antiques, there was but one man who knew exactly where everything was and where it came from;... Read More »
April 10, 2014
View All »
Meet the Staff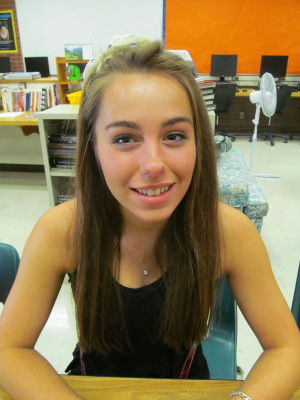 Olivia Rudio
Features Editor
I'm a junior this year and features editor on staff. I have been involved with the CMR journalism department ever since I was a freshman and have thoroughly enjoyed being apart of such an incredible program. My favorite subject in school is English. I've always loved to write and being on newspaper provides an excellent opportunity to exercise my favorite past time.  This year I hope our readers will appreciate the features section as I try to help make it the best we can.