While you're here….

Loading ...
Professional Articles/Videos
Meet the Staff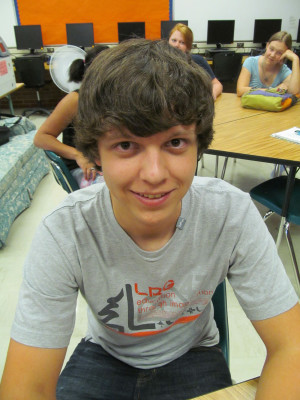 Tony Lynes
Website Editor
My name is Tony, and I am a new member of staff. I am a senior on the Stampede staff. I am the website editor, and hope to make the site as best as I can. I really enjoy sports, and play a lot of baseball. Besides that I like being with my friends. After high school I hope to go to college and possibly get involved in engineering.
Today's generation has its nose deep in all of the latest technology and social medias, but are these new ways to connect rotting the minds of people or allowing new and... Read More »
July 23, 2014
View All »
I know that this is the type of column that many people will look at, mutter an noise that sounds something like a cross between 'ugh' and 'ew', and flip the page... Read More »
July 23, 2014
View All »
Q: How long have you been playing tennis, and how did you get started? A: I got started when I was five years old, and I played at the Country Club. Q:... Read More »
July 23, 2014
View All »
Tweets by @SportsStampede
Upcoming Games
Click on any sport above to see a full schedule for that sport.
Advertisement - SNO Ad Network
CMR Calendar of Events
September 1, 2014 – LABOR DAY - No School


N/A, General

September 2, 2014 – Teachers return to CMR


N/A, General

September 4, 2014 – First Day of School


N/A, General
It was once said that a tattoo is "an everlasting gem that you will take into your grave." 14-year-old Kelsey Penny agrees with that statement whole-heartedly. "I... Read More »
July 23, 2014
View All »
Most book adaptations are enough to make fans of the books hit their heads against walls. With errors to be made in storyline, casting, and execution, it's not surprising... Read More »
July 23, 2014
View All »