CMR Calendar of Events
September 30, 2014 – Cross-town Soccer


3:30 pm, General
While you're here….

Loading ...
Professional Articles/Videos
Meet the Staff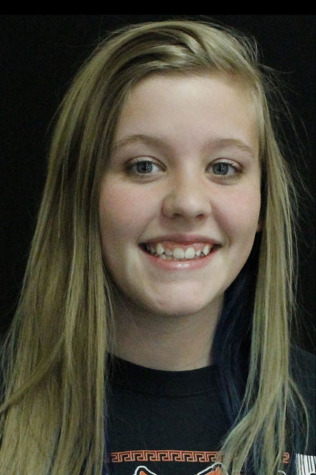 Carli Dieruf
staff writer
I'm Carli Dieruf, a junior this year and I have taken a Journalism class. This will be my first year on the Newspaper staff and I look forward to excelling and learning with the group. I have been writing since I was in middle school. I first got my feel for writing when I wrote a poem and it had been published a month or so later. After that I began writing poems later and sending them in for reviews. Often times I got letters back telling me just a couple changes that needed to be made. Later they would also be published. I like to attend events where people get together to share ideas on the world. I'm a very big believer in being yourself. In my free time I often write or spend time with the important people in my life. I hope to be a great addition to our paper here at C. M. Russell. We have a great staff and I'm excited to get to know each person that I get to work with this year. Excited for the 50th year!
Today's generation has its nose deep in all of the latest technology and social medias, but are these new ways to connect rotting the minds of people or allowing new and... Read More »
July 23, 2014
View All »
Bailey Collins, staff writer
Feminism is the belief that all people are equal, without regard for (biological) sex or gender choice. This seems like a simple enough definition, doesn't it? Yet a feminist... Read More »
September 25, 2014
View All »
Q: How long have you been playing tennis, and how did you get started? A: I got started when I was five years old, and I played at the Country Club. Q:... Read More »
July 23, 2014
View All »
Upcoming Games
Tue, Sep 30
Soccer
vs. GFH at GF Soccer Park

Thu, Oct 02
Golf
vs. State meet at Bozeman Bridger Creek

Thu, Oct 02
Soccer
vs. Butte at Butte

Thu, Oct 02
Volleyball
vs. Lewistown at CMR

Fri, Oct 03
Football
vs. Billings Skyview at Billings

Sat, Oct 04
Cross country
vs. Billings Invite at Billings

Tue, Oct 07
Volleyball
vs. GFH at GFH field house

Thu, Oct 09
Cross country
vs. Helena 7 on 7 at Helena Bill Roberts

Click on any sport above to see a full schedule for that sport.
Advertisement - SNO Ad Network
Print Edition - September 2014
Greighsen Adams, Staff Writer
Every teacher has a story. This is Brian Crosby's. Crosby—in addition to being the new girls' Varsity basketball coach— is both the video production teacher as... Read More »
June 3, 2013
View All »
Most book adaptations are enough to make fans of the books hit their heads against walls. With errors to be made in storyline, casting, and execution, it's not surprising... Read More »
July 23, 2014
View All »
Tweets by @SportsStampede