Print Edition - April 2014
On March 5, dozens of purple balloons floated up into the sky and out of sight as students came together for a giant group hug.  Afterwards,... Read More »
April 10, 2014
View All »
While you're here….

Loading ...
Professional Articles/Videos
CMR Calendar of Events
April 17, 2014 – No School


N/A, General

April 21, 2014 – No School


N/A, General

April 24, 2014 – CMR Drama Story Theater


N/A, General

April 29, 2014 – Blood Drive


N/A, General

April 30, 2014 – Senior Meeting


N/A, General
Drew Brennan, Staff Writer
Amidst the seemingly chaotic clutter of guns and antiques, there was but one man who knew exactly where everything was and where it came from;... Read More »
April 10, 2014
View All »
Meet the Staff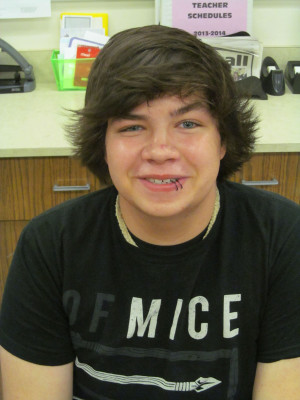 Tom Gruner
Photographer
Currently, I am a junior at CMR and this will be my second year on staff. I am a staff writer and photgrapher for the paper. Outside of school, somewhat, I participate in pepband as I am a huge lover of music. This past summer I went to WJEA Camp in Bellingham, Washington with some other students on staff and that was a great oppurtunity for me to advance my journalistic skills. My strongest points, I think, would be opinion and entertainment writing along with photography and I'm hoping I can broaden my horizons in this class with various other sections.